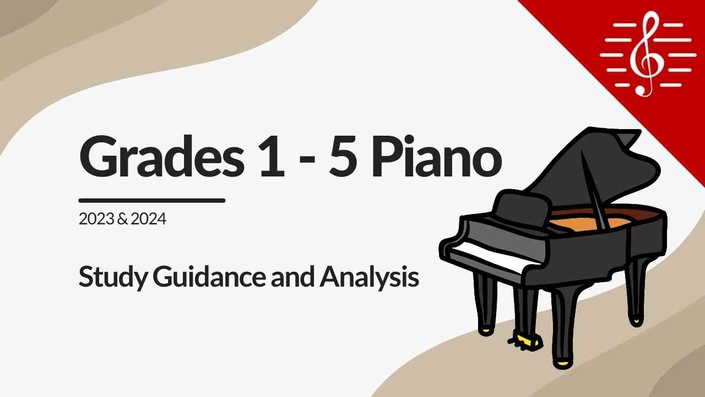 Piano Study Guidance and Analysis - Grades 1 to 5
Save 20% with this discounted bundle! The complete course for Grades 1 to 5 piano exam repertoire.
Enroll in Course
BUNDLE COURSE
Invaluable guidance for teachers and students.
Reach your potential with our thorough and comprehensive walk-through of each of the core pieces on the ABRSM 2023 & 2024 Piano Exam Pieces syllabus. This course explains the essential background to each piece, hints and tips for dealing with the technical and expressive demands, as well as giving the context of composer, style and mood. Each piece is analysed to give students and teachers a strong grasp of the melodic, rhythmic, harmonic, structural and texture issues in order to equip an authentic, imaginative, high level performance. The course is designed for students, for teachers, and for those preparing for the Teaching DipABRSM.
Courses Included with Purchase
Grade 1 Piano Study Guidance and Analysis
Get to grips with the 2023 & 2024 ABRSM grade 1 piano exam repertoire, covering the nine core pieces for the grade on the list.
Learn More
Preview
A1: Allegretto in C - Anton Diabelli

A2: Dragonflies - Marjorie Helyer

A3: Minuet in C - Alexander Reinagle
B1: Fresh Air - Andrew Eales

B2: A Morning Sunbeam - Florence B. Price

B3: The Quiet Wood - Michael Head
C1: Virginia Hall - Shruthi Rajasekar

C2: Sneaky Business - Martha Mier

C3: Little Whale Explores the Calm Sea - Caroline Tyler
Grade 2 Piano Study Guidance and Analysis
Get to grips with the 2023 & 2024 ABRSM grade 2 piano exam repertoire, covering the nine core pieces for the grade on the list.
Learn More
Preview
A1: Écossaise in G - Ludwig van Beethoven

A2: Gavotte in F - J. L. Dussek

A3: Tarantella - Agnieszka Lasko
B1: Forget-me-not Waltz - Stephen Duro
B2: Lullaby - C. V. Stanford

B3: Kangding Love Song - Trad. Chinese

C1: Railroad Blues - David Blackwell
C2: Mozzie - Elissa Milne
C3: Daydream - Kristina Arakelyan
Grade 3 Piano Study Guidance and Analysis
Get to grips with the 2023 & 2024 ABRSM grade 3 piano exam repertoire, covering the nine core pieces for the grade on the list.
Learn More
Preview
A1: Minuet in G - Anon.

A2: Vivace - Muzio Clementi

A3: Hansel and Gretel - Mirosław Gąsieniec
B1: The Sad Ghost - Nancy Litten
B2: Study in F - C. A. Loeschhorn

B3: The Song of Twilight - Yoshinao Nakada

C1: T-Rex Hungry - Sonny Chua
C2: The Spanish Guitar - William Gillock
C3: The Entertainer - Scott Joplin
Grade 4 Piano Study Guidance and Analysis
Get to grips with the 2023 & 2024 ABRSM grade 4 piano exam repertoire, covering the nine core pieces for the grade on the list.
Learn More
Preview
A1: Presto - G. B. Pescetti

A2: Mouvement de valse - Louise Farrenc

A3: Allegro in F - G. F. Handel
B1: Billie's Song - Valerie Capers
B2: Idylle - Cécile Chaminade

B3: La nouvelle poupée - P. I. Tchaikovsky

C1: Pentatonic Tune - Béla Bartók
C2: Ninette's Musette - George Nevada
C3: Ticklin' Toes - Florence B. Price
Grade 5 Piano Study Guidance and Analysis
Get to grips with the 2023 & 2024 ABRSM grade 5 piano exam repertoire, covering the nine core pieces for the grade on the list.
Learn More
Preview
A1: Allegro - Domenico Cimarosa

A2: Minuet and Trio - Joseph Haydn

A3: Jester's Jig - Chee-Hwa Tan
B1: Minnelied - Heinrich Hofmann
B2: Wind in the Willows - Bernadette Marmion

B3: Philomela - Dorothy Pilling

C1: In the Groove - Mike Cornick
C2: Scherzo - D. B. Kabalevsky
C3: A Distant Star in the Stillness - David A. T. Önaç
"
I'm so pleased to find these videos - thank you so much. I've played the piano for 25 years and never took lessons. I was always aware that there was a huge hole in my knowledge which was preventing me from taking steps into other pieces, and this course was a literal revelation to me. Thank you, deeply.
- Max
I'm only an hour through your first lesson here and I'm already wildly satisfied with your teaching method. The pace is perfect for where I am along my musical journey. I truly appreciate what you're doing here and can't wait to continue through these and move onto more of your courses. Concise and straight to the application of concepts just as it should be!
- Cole
I have been watching different videos but none of them were as good as yours. Thank you sooo much, it is great. I hope all those searching for piano lessons find these videos sooner rather than watching 100 of other videos.
- Fathima
BUNDLE COURSE
Who Is This Course For?
Thoroughly understaning a piece of music is key to achieving a high level of musicianship and reach their true potential. The Grades 1 to 5 Piano Study Guidance and Analysis course is for students wanting to perform the graded pieces at a high level with confidence and understanding. It is also for teachers wanting to gain insight into how to teach these pieces to their students. Additionally, it is for those preparing for the Teaching DipABRSM who require an in-depth look at the music.
Professional Teaching
You'll receive expert teaching, inherent in putting together a confident performance that will fulfil the requirements of the ABRSM criteria.
Practical Knowledge
Each video demonstrates the essentials required for learning in terms of notes, rhythms, fingering issues etc. before exploring the construction of each work.
Ask Questions
Below each video you are able to post comments and ask questions should you have any in regards to the course topics or any of the pieces covered. &nbsp &nbsp &nbsp &nbsp &nbsp &nbsp &nbsp
Easy to Follow Structure
The course is divided into multiple stages, breaking down each part separately before putting in all together.
Complete at Your Own Pace
You can easily fit the course around your regular commitments, completing it at your own pace and in your own time.
Anywhere Access
Your course never expires. Learn when and where you choose! Computer or mobile. Just get comfortable and dive in!
↓
Your Instructor
Hi, I'm Gareth and I'm passionate about developing 'the all round musician'.

Nearly 35 years of music examining with ABRSM, work with the BBC on Radio and TV, experience on the international concert platform, as a published composer and arranger, have brought rich resources to the 40 years of teaching in which I've engaged.
Scholarships at The Royal College of Music, Oxford University and St. Paul's Cathedral gave me fantastic opportunities to learn from the best musicians, scholars and teachers. Working as Director of Music at Queen Elizabeth Grammar School then provided a wonderful opportunity to develop my teaching skills.
Teaching individuals and groups of all ages, and at all stages of development have refined a teaching approach that I hope is fun and engaging, and focused on explaining things clearly and logically. And that is what these courses are all about - understanding the basic principles with clarity, then going deeper, applying them to your musical life and liberating yourself as a musician.
It's a rich and amazing journey, and I can't wait for you to join me today!
Frequently Asked Questions
Which exam board is this course aimed at?
Suitable for candidates preparing for ABRSM practical exams, as well as teachers and those preparing for the Teaching DipABRSM. This course covers the nine core pieces on the syllabus for each grade.
Where can I find the scores?
This course covers the nine core pieces for each grade on the ABRSM syllabus. In order to get the most out of this course, you'll need a copy of the books which contains copies of all the scores that are referred to during the course.
When does the course start and finish?
It is a completely self-paced online course! Watch and replay lessons as you wish - you decide when you start and when you finish.
How long do I have access to the course?
How does lifetime access sound? After enrolling, you have unlimited access to this course for as long as you like - across any and all of the devices you own.
What if I am unhappy with the course?
We would never want you to be unhappy! If you are unsatisfied with your purchase, contact us and we'll be sure to quickly resolve any issues you might have.
What payment methods do you accept?
Both PayPal and credit/debit card payments are accepted.
I need help! Who can help me?
A Letter from Gareth Green
MA (Oxon), MA (Leeds), FRCO(CHM), FLCM, ARCM
When it comes to exam pieces many students and teachers do a great job learning the notes and some take care to embrace the expressive detail provided by the composer or editor. What more is there to consider?
The ABRSM marking criteria provides a fabulous guide, not only for examiners but also for teachers and students. It's well worth absorbing if you're not familiar with it. Most people might expect to be assessed on the accuracy of notes, rhythmic flow, accurate coordination of the hands and other essentials but by digging deeper we can achieve a real connection with the music that is guaranteed to bring any performance to life. When it comes to the area of 'Time' on the criteria, for example, we need to be sure that the piece is being played at an appropriate tempo, that the rhythm is secure, that a strong sense of pulse is evident, and that rhythmic flexibility is applied where appropriate. When it comes to tone, does the performance demonstrate beautiful sound and is there variety of colour in the tone or is the sound rather monochrome, or over strident, or rather pale and apologetic? Is the texture well balanced, or does the accompaniment drown melodic lines? Is the dynamic range broad or rather restricted? Is the phrasing and articulation accurate and consistent, or is it absent, inconsistent, or only present in part, or over-stated or under-stated? Are the phrases presented with a sense of musical shape or is the playing rather directionless? Is the performance assured or rather lacking in confidence, or is it simply rather pedestrian and unimaginative? These are examples of what one should be considering in order to achieve a convincing performance that aligns with the stated criteria.
At the same time, it is important to stress that there is not an 'ABRSM way' to play the pieces. ABRSM goes to great lengths to reassure candidates and teachers that any convincing performance will be favourably assessed by examiners.
How do we ensure that we or our students give convincing performances?
In addition to the above, we need to have a good understanding of what is going on in each piece so we can highlight important points in melodic lines, in the rhythm, in the harmony, in the texture, and in the structure of the piece. We need to capture the musical character through the ways in which we approach rhythm, articulation, tempo, dynamics, balance between the hands, as well as through our understanding of the style and mood of the piece, of the composer, and of the historical context.
This course takes each of the pieces printed in the grade books and unpacks all of the above. Whether you are a student or exam candidate learning these pieces, or a teacher teaching these pieces, or a teacher preparing for the DipABRSM Teaching, this course will be invaluable to you. The content crystallises years of study and decades of teaching and examining experience, which it is my honour and pleasure to pass on to you.
I hope you enjoy the course and whether you are a student, a teacher, or someone preparing for DipABRSM, I wish you all the very best.
— Gareth Green, Music Matters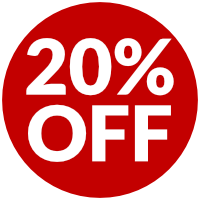 Save money with this bundle!
This complete bundle set of our Grades 1 to 5 piano study and analysis courses is offered to you with a massive overall saving of 20%.