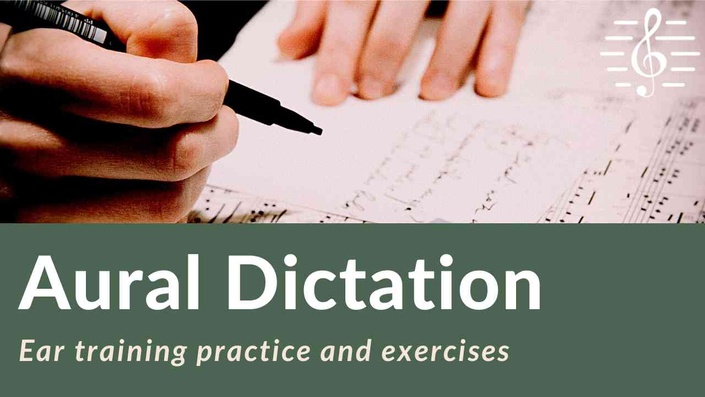 Aural Dictation
Develop the ability to identify and dictate pitch, rhythm and harmony.
Enroll in Course

What You Will Learn
---
Develop your ear and build key listening skills with the Aural Dictation course.
Learn how to notate accurately rhythm and melody by ear and gain a deeper understanding of the building blocks of music. Through ear training and transcription exercises you'll learn to build an awareness of what's happening around you when you are playing and build your confidence as a musician. During the Aural Dictation course we'll cover...
Rhythmic Dictation - What are the common rhythmic patterns? How do you identify the sound of them, relate them to beats then write them down? How do you see them and convert that to sound?
Melodic Dictation - How do you hear the movement of pitch from one note to the next, identify the intervals, then write them down? How do you look at a melodic line and hear it without having to play it?
Identifying Modulations - How do you hear key changes and know what those key changes are? How can you look at modulations and hear the key changes without having to play them?
Dictation of Multiple Parts - How do you hear multiple parts at the same time? How can you hear the harmonic intervals as well as the melodic intervals and write them down? How can you look at a piece of music in multiple parts and hear all of the parts without having to play them?
Free Moving Four-Part Dictation - Additional elements of learning to hear inessential notes such as passing notes and auxiliary notes.
I used to get really fed up because I had all these great tunes in my head but it was impossible to work out how to play them or write them down. The chords were even harder. I'd never even heard of Aural Dictation but it's really good and now I've done this course I'm getting much better. Every song writer should do this course.
- Mac

Who Is This Course For?
---
Passionate musicians and those looking to improving their relative pitch.
Many musicians struggle to write down what they hear or to hear what they're looking at. The aural dictation course is designed to develop both of these essential musical skills. Learning the skill of aural dictation is a huge benefit to musicians who strive to become real professionals.
Do any of these sound familiar?
"I wish I could play music by ear…" "I'd love to be able to play a song just by listening to it…" "I'm a composer, I can hear things in my head that I want to write down but I just can't notate them…" "I'm a performer, I can read music but struggle to look at a score and instantly hear how it sounds…" "I'm preparing for a music exam and have to dictate rhythms and melodies that I hear but I don't know how…"
↓
I never really saw the point of Aural Dictation until I did this course. It's really improved my sight reading because now when I look at a new piece of music in the band I can hear how my part goes before we've even played it.
- Michael

By the end of the Aural Dictation course you'll be able to…
---

Write down music you hear quickly and easily

Hear music in your head just by looking at a score

Hear complex harmony and modulations

Hear threads of musical texture with much greater awareness

Immediately recognise rhythmic and melodic patterns

Sight read pieces with greater confidence
I have to do Aural Dictation at College. Every week we have classes where the lecturer tells us to write down music that he plays but he never explains how to do it so I've been rubbish at this all along. This course showed me how to do it and now I'm much better and much more confident. I even look forward to the classes now (but don't tell the lecturer, ha ha!)
- Jenny

Course Information
---
What's Included with the Aural Dictation Course?
Over 21 Hours of Content
You'll receive more than 21 hours worth of professional ear training, thoroughly enabling you to develop the skill of aural dictation.
Practical Exercises
Each video teaches you the method for accurate dictation and then follows with a number of practical exercises for you to practice.
Ask Questions
Below each video you are able to post comments and ask questions should you have any in regards to the course topics covered. &nbsp &nbsp &nbsp &nbsp &nbsp &nbsp &nbsp
Easy to Follow Structure
The course is divided into multiple stages, breaking down each part separately before moving onto advanced aural dictation.
Complete at Your Own Pace
You can easily fit the course around your regular commitments, completing it at your own pace and in your own time.
Anywhere Access
Your course never expires. Learn when and where you choose! Computer or mobile. Just get comfortable and dive in!
↓
Your Instructor
Hi, I'm Gareth and I'm passionate about developing 'the all round musician'.

Nearly 35 years of music examining with ABRSM, work with the BBC on Radio and TV, experience on the international concert platform, as a published composer and arranger, have brought rich resources to the 40 years of teaching in which I've engaged.
Scholarships at The Royal College of Music, Oxford University and St. Paul's Cathedral gave me fantastic opportunities to learn from the best musicians, scholars and teachers. Working as Director of Music at Queen Elizabeth Grammar School then provided a wonderful opportunity to develop my teaching skills.
Teaching individuals and groups of all ages, and at all stages of development have refined a teaching approach that I hope is fun and engaging, and focused on explaining things clearly and logically. And that is what these courses are all about - understanding the basic principles with clarity, then going deeper, applying them to your musical life and liberating yourself as a musician.
It's a rich and amazing journey, and I can't wait for you to join me today!
Frequently Asked Questions
When does the course start and finish?
It is a completely self-paced online course! Watch and replay lessons as you wish - you decide when you start and when you finish.
How long do I have access to the course?
How does lifetime access sound? After enrolling, you have unlimited access to this course for as long as you like - across any and all of the devices you own.
What if I am unhappy with the course?
We stand behind the academic quality of our online courses and are committed to ensuring that you completely satisfied; that's why we offer a 14 days money back guarantee. Simply send us an email explaining what you didn't like about the course and why it wasn't suitable for you and we'll give you a full refund.
What payment methods do you accept?
Both credit and debit card payments are accepted. You can also pay with PayPal, Apple Pay, and Google Pay.
I need help! Who can help me?
A Letter from Gareth Green
MA (Oxon), MA (Leeds), FRCO(CHM), FLCM, ARCM
I well remember a day during my teenage years when I was looking at scores in a London music shop. Suddenly it struck me that I could 'hear' a piece I didn't know just by looking at it. Wow - what a moment! A moment from which I've never looked back.
In that moment a musical light was switched on. From that point I could 'hear' just about any score I looked at. My sight reading skills took a huge leap forwards. I was able to write down musical ideas that were in my head. My harmony skills were transformed and my analytical skills were suddenly more confident.
When I reflected on how this transformation had come about I realised that I had been attending Aural Dictation classes during the previous months. I had valued the classes because Aural Dictation skills seemed worth acquiring but I had no idea that these and many other musical implications would follow.
In my view, Aural Dictation skills should be at the core of development for any musician. This is why we have put this exciting course together. Join us today and experience this transformation for yourself.
— Gareth Green, Music Matters