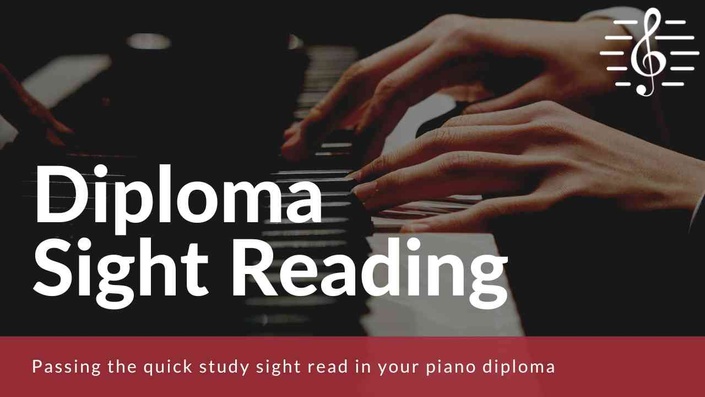 Diploma Sight Reading
Succeed with the quick study sight reading section of your piano diploma exam.
Enroll in Course

What You Will Learn
---
Pass the quick study sight read with the Diploma Sight Reading course for piano.
Ask any candidate working towards a diploma which part of the exam they fear most, and nine times out of 10, it's the quick study. If you're working towards either the performance or teaching diploma, you'll probably be conscious that the quick study or sight reading is typically worth only 15% of the overall marks available, yet, one mark below the pass mark for this part of the exam can equal a fail overall, even if you've passed the other sections. It's a scary prospect, is it not? This course will develop your sight reading ability to a truly professional level, teaching you the steps to be taken in each area and how to approach a quick study sight read at all exam levels. By breaking down the task of sight reading into the constituent components you'll develop each skill in turn, with the threads drawn together building to a point at which you can tackle each of 20 specimen quick study sight reading exercises written especially for the course. During the Diploma Sight Reading course we'll cover...
Reading Technique - How do you improve both your horizontal and vertical reading? How do you learn to read further ahead? What can you do to keep going?
Pattern Based Reading - How do you go about spotting the patterns within a piece of music? What are the best methods for reading chords? Can you read a wide variety of piano textures?
Advancing Core Components - How do you advance your reading of notes and rhythms? What can you do to read music faster? What are the best ways for you to get practice?
Capturing the Detail - What do you need to do in order to pass? How do you read with expressive awareness? How do you sight read like a true performer?
Preparation and Approach - What should you do in the five minute preparation time? What are the key elements of a piece to practice? How do you spot the hardest parts?
After a 30 year gap in both lessons and playing I decided to study for my grade 8 piano. Over a period of 5 months involving one to one and skype lessons with Gareth I managed to get a distinction. Gareth was always very encouraging and supportive, bringing out the best in my playing through making technical suggestions and inviting me to try understand the theory inherent in my pieces to develop my musical understanding. I cannot recommend Gareth enough!
- Janet

Who Is This Course For?
---
Candidates preparing for piano diploma exams and advanced pianists.
The quick study is not simply a matter of playing the notes. It is expected that the candidate will play musically, including the performance detail and give a creditable characterisation of the style and mood of the music. But how can you do all that within an accelerated time frame? The diploma sight reading course is designed to develop your sight reading ability, enabling you to pass with ease the quick study section of your exam. Being able to sight read up to an advanced level is a huge benefit to musicians who strive to become real professionals. Fluency in sight reading and transposition is not only useful for success in examinations, but aids the faster learning of repertoire and the mastering of other musical techniques such as improvisation.
Do any of these sound familiar?
"I'm preparing to take a piano diploma exam and the quick study sight reading section worries me the most..." "I've passed the other sections of my piano diploma but I just can't reach the standard required for the quick study..." "I can play the piano well but I really want to be better at sight reading…" "I'm a piano teacher and wish I was more confident when it comes to sight reading the music my students are working on..." "I'm an accompanist and want to be more assured about accompanying at sight…"
↓
Being a virtual adult learner and largely left to my own devices I have found your videos invaluable. Thank you for your help.
- Anuradha

By the end of the Diploma Sight Reading course you'll be able to…
---

Spot pitch patterns that will enable fluency

Read rhythms in any time signature with greater accuracy and confidence

Negotiate a range of piano textures

Read chords with greater facility in a variety of tonal and less tonal contexts

Sight read in a variety of musical styles

Read in a way that is expressively aware
Just want to say that your videos have it all. Clear audio, excellent pacing, easy to understand explanations... But most of all, they make me want to delve deeper into learning music. Thank you very much for these great videos.
- Koen

Course Information
---
What's Included with the Diploma Sight Reading Course?
Professional Teaching
You'll receive expert training covering all the elements needed to pass your exam and become a master sight reader.
Specimen Quick Studies
The course contains 20 specimen quick studies covering the full range of diplomas each with a video commentary.
Ask Questions
Below each video you are able to post comments and ask questions should you have any in regards to the course topics covered.
Easy to Follow Structure
The course is divided into multiple stages, breaking down each part separately before putting in all together.
Complete at Your Own Pace
You can easily fit the course around your regular commitments, completing it at your own pace and in your own time.
Anywhere Access
Your course never expires. Learn when and where you choose! Computer or mobile. Just get comfortable and dive in!
↓
Your Instructor
Hi, I'm Gareth and I'm passionate about developing 'the all round musician'.

Nearly 35 years of music examining with ABRSM, work with the BBC on Radio and TV, experience on the international concert platform, as a published composer and arranger, have brought rich resources to the 40 years of teaching in which I've engaged.
Scholarships at The Royal College of Music, Oxford University and St. Paul's Cathedral gave me fantastic opportunities to learn from the best musicians, scholars and teachers. Working as Director of Music at Queen Elizabeth Grammar School then provided a wonderful opportunity to develop my teaching skills.
Teaching individuals and groups of all ages, and at all stages of development have refined a teaching approach that I hope is fun and engaging, and focused on explaining things clearly and logically. And that is what these courses are all about - understanding the basic principles with clarity, then going deeper, applying them to your musical life and liberating yourself as a musician.
It's a rich and amazing journey, and I can't wait for you to join me today!
Frequently Asked Questions
When does the course start and finish?
It is a completely self-paced online course! Watch and replay lessons as you wish - you decide when you start and when you finish.
How long do I have access to the course?
How does lifetime access sound? After enrolling, you have unlimited access to this course for as long as you like - across any and all of the devices you own.
What if I am unhappy with the course?
We stand behind the academic quality of our online courses and are committed to ensuring that you completely satisfied; that's why we offer a 14 days money back guarantee. Simply send us an email explaining what you didn't like about the course and why it wasn't suitable for you and we'll give you a full refund.
What payment methods do you accept?
Both credit and debit card payments are accepted. You can also pay with PayPal, Apple Pay, and Google Pay.
I need help! Who can help me?
A Letter from Gareth Green
MA (Oxon), MA (Leeds), FRCO(CHM), FLCM, ARCM
Over decades of teaching I've seen a handful of natural sight readers but for most people sight reading has to be worked at. Think how many hours of preparation go into learning to play a piece well. Yet how much time do we devote to developing good sight reading skills?
As an examiner many is the time I've heard really good performances of the pieces followed by sight reading full of errors and hesitations, with candidates looking forlornly at the music then at the keys trying to make sense of a score. Then when it comes to Diploma level and a pass is required in each section many candidates succeed in the performance section but fail on the sight reading quick study.
There are many good reasons to acquire strong sight reading skills. As I look back on my own career to date it has often been such skills that have provided me with work. I once sight read song accompaniments on national radio when the person booked to play was stuck in traffic. I once received a phone call asking me if I would be willing to accompany an entire Opera at the piano. "Sure" said I. "When is it?" "The show starts in 30 minutes" was the response. I quickly put on a dinner jacket, drove to the Theatre, sat at the piano and as the curtain rose someone put a 200 page score on the piano. These are the moments when sight reading skills really count!
The problem is that people try to improve their skills simply by reading unfamiliar music. There are plenty of books of sight reading exercises but a lack of progressive and directive courses. There are constituent skills that need breaking down and exploring before putting the whole picture back together.
So if you want to acquire solid sight reading and quick study skills this unique course is for you. It distills all I've discovered through decades of experience as a performer, teacher and examiner.
By studying this course you will move your sight reading and quick study skills into a completely new level and never look back. Enjoy!
— Gareth Green, Music Matters