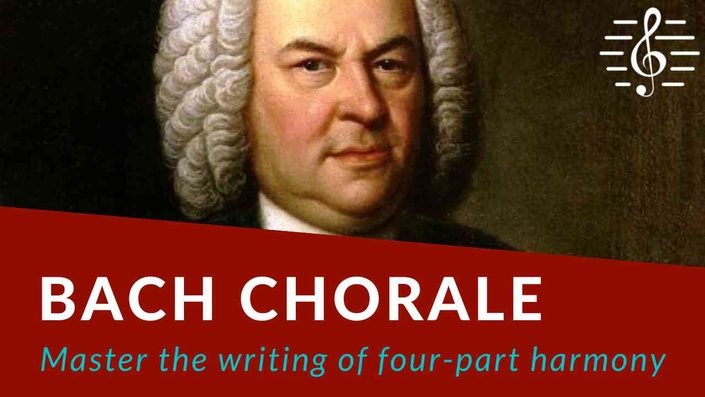 Bach Chorale
Learn how to write four-part harmony in the style of J.S. Bach and master his Chorale technique.
Enroll in Course

What You Will Learn
---
Learn the art of writing classical harmony in four-parts with the Bach Chorale course.
Johann Sebastian Bach is one of the most remarkable musicians in our history and his four-part Chorales are classical music's ultimate masterpieces in harmony. He is known to have taught his own students the principles of music by making them study and write Chorales. They have been the cornerstone of learning to write good harmony and have been extolled by practically all the great musicians who have followed in his wake. This course will teach you how to harmonise Chorales in the style of JS Bach. During the Bach Chorale course we'll cover...
Core Principles - What are the key rules to follow? How do you avoid the common traps of harmony? What are the best methods for successful chord progressions?
Effective Harmony - How do you deal with modulation? When should you form a cadence? Which chords best progress onto which other chords?
Chorale Technique - What would Bach have done? What are the stylistic elements you need to consider? How do you analyse Chorale harmony?
Harmonic Enrichment Opportunities - How do you deal with inversions and more awkward chords? When can the rules be broken? Where might you want to use extended chords or chromatic chords?
Melodic Voice Leading - What do you need to know about voice leading? How do you create interplay between parts? What are the methods for creating beautiful voice leading?
Without question, your product is by far the best available. By far. It's no surprise that it's so successful. Many thanks to you.
- Mike

Who Is This Course For?
---
Advanced students studying harmony and impassioned composers.
To this day, learning the technique of traditional harmonic writing is still a core study for high-level music students and successful composers around the world. Bach Chorales have formed the foundation for good harmony, from Baroque music right the way up to present day modern songs. This comprehensive and unique course skilfully supports your composition of Chorale harmonisations. Starting with the rules of basic harmony writing, enhancing Chorales with the use of suspensions and passing notes and working full Chorale exercises. Understanding Bach's Chorale technique is the corner stone to writing good harmony.
Do any of these sound familiar?
"I'm taking an exam in which I have to tackle a Bach Chorale harmonisation but don't know where to start..." "I would love to be able to write in the style of Bach..." "I really want to know how to harmonise a melody well…" "I want to know more about why Bach is such a brilliant composer, and how he is the master of harmony..." "I want to develop really good harmonic analysis skills…"
↓
I really got a lot out of the Bach Chorale course, and started the Writing Counterpoint course. This was invaluable during the process of writing my eighth, which I completed today. Thank you most kindly! You have changed my life!
- Frudd

By the end of the Bach Chorale course you'll be able to…
---

Successfully write Chorales in the style of Bach

Craft beautiful voice leading and interplay between parts

Perform harmonic analysis of music quickly and confidently

Compose excellent four-part harmony

Spot opportunities for suspensions, inessential notes and intricate detail

Identify and to construct effective modulations
I really appreciate what you are doing. I've learned so much, Gareth - many, many thanks. I'm a choral singer and your classes have helped me understand music on a deeper level.
- Tom

Course Information
---
What's Included with the Bach Chorale Course?
Professional Teaching
You'll receive expert teaching on how to build and apply your knowledge of tonal harmony and choral writing.
Practical Exercises
Packed with detailed contextual information on Bach's musical style and straightforward guidance on working examples.
Ask Questions
Below each video you are able to post comments and ask questions should you have any in regards to the course topics covered.
Easy to Follow Structure
The course is divided into multiple stages, breaking down each part separately before putting in all together.
Complete at Your Own Pace
You can easily fit the course around your regular commitments, completing it at your own pace and in your own time.
Anywhere Access
Your course never expires. Learn when and where you choose! Computer or mobile. Just get comfortable and dive in!
↓
Your Instructor
Hi, I'm Gareth and I'm passionate about developing 'the all round musician'.

Nearly 35 years of music examining with ABRSM, work with the BBC on Radio and TV, experience on the international concert platform, as a published composer and arranger, have brought rich resources to the 40 years of teaching in which I've engaged.
Scholarships at The Royal College of Music, Oxford University and St. Paul's Cathedral gave me fantastic opportunities to learn from the best musicians, scholars and teachers. Working as Director of Music at Queen Elizabeth Grammar School then provided a wonderful opportunity to develop my teaching skills.
Teaching individuals and groups of all ages, and at all stages of development have refined a teaching approach that I hope is fun and engaging, and focused on explaining things clearly and logically. And that is what these courses are all about - understanding the basic principles with clarity, then going deeper, applying them to your musical life and liberating yourself as a musician.
It's a rich and amazing journey, and I can't wait for you to join me today!
Course Curriculum
Introduction
Available in days
days after you enroll
Your Next Steps
Available in days
days after you enroll
Frequently Asked Questions
When does the course start and finish?
It is a completely self-paced online course! Watch and replay lessons as you wish - you decide when you start and when you finish.
How long do I have access to the course?
How does lifetime access sound? After enrolling, you have unlimited access to this course for as long as you like - across any and all of the devices you own.
What if I am unhappy with the course?
We stand behind the academic quality of our online courses and are committed to ensuring that you completely satisfied; that's why we offer a 14 days money back guarantee. Simply send us an email explaining what you didn't like about the course and why it wasn't suitable for you and we'll give you a full refund.
What payment methods do you accept?
Both credit and debit card payments are accepted. You can also pay with PayPal, Apple Pay, and Google Pay.
I need help! Who can help me?
A Letter from Gareth Green
MA (Oxon), MA (Leeds), FRCO(CHM), FLCM, ARCM
My earliest encounters with Bach Chorales were in Church, singing in and conducting choirs. Even as a child they struck me with a beauty that far surpassed the standard hymns that were sung. Often at weddings the choir would sing "Jesu Joy of Man's Desiring", a famous movement from a Bach Cantata in which the various statements of the Chorale unfold around a stunning Oboe obbligato melody accompanied by the unmistakable harmony of Bach. I've heard and performed this movement and so many other Chorales and Cantatas over the decades and, far from tiring of the repetition, the wonder of the music still strikes me every time.
So what makes for such musical beauty? The rich harmony, the strong harmonic progressions and modulations, the emphatic cadences, the beautifully organised suspensions and elaborate decoration using inessential notes. One could go on.
It is no wonder that the Chorales became the 'gold standard' for the writing of four part harmony, which is why the harmonisation of Chorale melodies in the style of Bach is so often an exam requirement.
Whether you are facing such an exam, or wanting to write good harmony, or desiring to harmonise in the style of Bach this course is for you. In addition, the course will sharpen your powers of harmonic analysis, will help you to hear chord movement, and will equip you with skills in the writing of inessential notes and suspensions that will serve you well in any style.
Far from being an academic exercise, this study of the Bach Chorale style will enhance your complete existence as a musician. By getting inside the mind of Bach you will be elevated to new musical heights. I look forward to you joining me as we enter the gripping world of Bach and embark on a fascinating Chorale journey that will inspire you for ever.
— Gareth Green, Music Matters