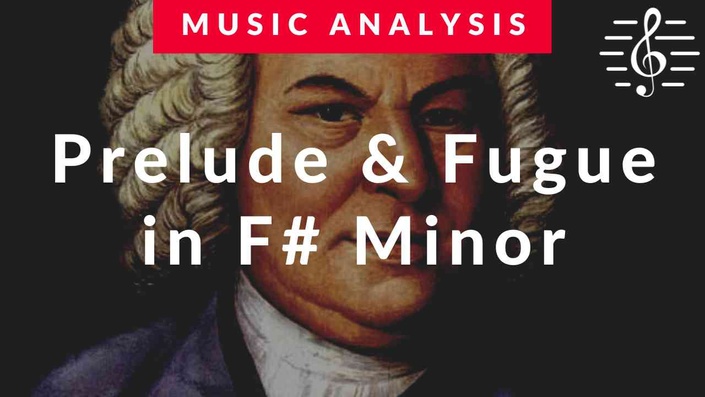 Bach's Prelude & Fugue in F# Minor BWV859 Analysis
Get inside the mind of Bach with this detailed analysis of his much loved Prelude and Fugue in F# Minor.
Enroll in Course

What You Will Learn
---
Gain an insight into this much loved work with this Music Analysis course.
Get inside the mind of Bach with this remarkable Prelude and Fugue from Bach's '48'. You will discover the background circumstances of Bach's "Well Tempered Clavier" (the 48 Preludes and Fugues), how the Prelude is structured and how the thematic ideas are formed and developed, how a Fugue works, and how Bach writes and develops the Subject, the Countersubject, and the free material in this work. Fugal devices and the harmonic language are also explained. The course offers insight into the compositional style of Bach and will also help develop analytical skills that you will be able to apply elsewhere. During this music analysis course we'll cover...
Structures - How are the Prelude and Fugue constructed? How is the thematic material used? Which moments demonstate Bach's genius?
Fugal Design - How is a fugue written? What are the technical names for the various constituent ingredients of a Fugue? How does Bach use them in this example?
Harmonic Language - How is the motivic development used to paint the musical tension of the work? What is the key structure of each of the movements? How are the modulations achieved?
Inner Detail - How does Bach make use of both homophonic and polyphonic textures? How does the Countersubject contrast with the Subject and work alongside it to achieve compositional cohesion? What about the free material, including how it is derived from the Subject and the Countersubject, and how it is developed as the Fugue unfolds?
Background and Interpretation - What is the content of Bach's "Well Tempered Clavier"? What does this piece reveal about Bach's style and about writing for the keyboard? How does all this influence an interpretation of the work?
Great!! Pointing out whats going on really helps me see the ideas moving in the piece, instead of being lost on how to analyze it!
- Ray

Who Is This Course For?
---
Performers learning the work and students who want to explore the genius of Bach.
The benefits of music analysis are often overlooked by students. Delving into such a fabulous piece in great detail allows us get an idea of what was going on in Bach's mind, highlighting the inner workings of a piece, giving us greater knowledge and ideas that we can apply in either performance or our own compositions. This music analysis course offers detailed insight that will help you understand what Bach was thinking when he wrote this piece, which will assist in giving you a stronger interpretation and deeper grasp of what would be needed for programme notes and a viva voce if you are preparing the work for an exam, a concert, or an audition. It also reveals much about Bach's style and about writing for the keyboard. Additionally, the course is designed to equip you with analytical skills that can be applied to any piece of music.
Do any of these sound familiar?
"I want to know more about why Bach is such a brilliant composer, how he writes so remarkably for keyboard, and how he is the master of Fugue..." "I'm preparing this piece for an exam but need help with the programme notes and/ or the viva voce..." "I want to be clearer about how a Fugue works…" "I want to know more about Bach's style..." "I'm learning this piece but would like to know more about the structure, the keys, chords and modulations, and other things I need to draw out in my playing…"
↓
Thank you. That was very clear and helpful. It makes me realise the benefit of trying first to analyse a piece before attempting to play it. With this sort of analysis, the piece would be much easier to learn.
- Brian

By the end of this Music Analysis course you'll be able to…
---

Perceive how both the Prelude and the Fugue are structured and how the thematic material is used

Understand the entire harmonic language of the work, along with the keys and modulation schemes

Reflect on new ideas for interpretation of the piece

Understand how a Fugue is written, what are the technical names for the various constituent ingredients of a Fugue and how they are used in this example

Feel more confident about your analytical skills

Clearly define what constitutes Bach's style
What a great analysis and also great playing. You have taught me an incredible amount. You are the teacher that actually sparked my interest in learning how to compose orchestral/"classical" music. And that is because you make it so easily understandable. Also you take time to refresh fundamental steps in order for the videos to make sense, not assuming the watcher already knows them. Thank you for all you have done. Words can not describe how big of an impact you are on so many peoples lives. From the people learning directly from your videos, to the people those people go on to teach, and furthermore to the listeners listening to the music created as a result.
- Jarod

Course Information
---
What's Included with this Music Analysis Course?
Professional Teaching
You'll receive expert teaching, highlighting the complete inner workings of the piece and the reasonings behind them.
Musical Explanation
All the analytical aspects are explained in great detail, with the piece being slowly played so you can relate everything to sound.
Ask Questions
Below each video you are able to post comments and ask questions should you have any in regards to the course topics covered.
Easy to Follow Structure
The course is divided into multiple stages, breaking down each part separately before putting in all together.
Complete at Your Own Pace
You can easily fit the course around your regular commitments, completing it at your own pace and in your own time.
Anywhere Access
Your course never expires. Learn when and where you choose! Computer or mobile. Just get comfortable and dive in!
↓
Your Instructor
Hi, I'm Gareth and I'm passionate about developing 'the all round musician'.

Nearly 35 years of music examining with ABRSM, work with the BBC on Radio and TV, experience on the international concert platform, as a published composer and arranger, have brought rich resources to the 40 years of teaching in which I've engaged.
Scholarships at The Royal College of Music, Oxford University and St. Paul's Cathedral gave me fantastic opportunities to learn from the best musicians, scholars and teachers. Working as Director of Music at Queen Elizabeth Grammar School then provided a wonderful opportunity to develop my teaching skills.
Teaching individuals and groups of all ages, and at all stages of development have refined a teaching approach that I hope is fun and engaging, and focused on explaining things clearly and logically. And that is what these courses are all about - understanding the basic principles with clarity, then going deeper, applying them to your musical life and liberating yourself as a musician.
It's a rich and amazing journey, and I can't wait for you to join me today!
Course Curriculum
Introduction
Available in days
days after you enroll
Additional Resources
Available in days
days after you enroll
Frequently Asked Questions
When does the course start and finish?
It is a completely self-paced online course! Watch and replay lessons as you wish - you decide when you start and when you finish.
How long do I have access to the course?
How does lifetime access sound? After enrolling, you have unlimited access to this course for as long as you like - across any and all of the devices you own.
What if I am unhappy with the course?
We stand behind the academic quality of our online courses and are committed to ensuring that you completely satisfied; that's why we offer a 14 days money back guarantee. Simply send us an email explaining what you didn't like about the course and why it wasn't suitable for you and we'll give you a full refund.
What payment methods do you accept?
Both credit and debit card payments are accepted. You can also pay with PayPal, Apple Pay, and Google Pay.
I need help! Who can help me?
A Letter from Gareth Green
MA (Oxon), MA (Leeds), FRCO(CHM), FLCM, ARCM
As an organist I have always loved playing the Preludes and Fugues of Bach. What continues to amaze me is how Bach so often writes in this form yet manages to say something fresh every time. That is perhaps the ultimate mark of his genius.
None of these works are easy to play but most performers struggle more with the Fugues than they do with the Preludes. This is partly because Bach always makes tricky technical demands but also because many performers do not fully understand how a Fugue works. By the end of this course you will fully comprehend fugal structure, knowing your Exposition from your Middle Section from your Final Section, your Subject from your Answer, your Regular Countersubject from your Irregular Countersubject, your Episode from your Stretto, and your Augmentation from your Diminution. This will vastly assist your appreciation and interpretation of this work and of Preludes and Fugues in general.
As we work our way through this Prelude and Fugue we will grasp the overall structure of the two movements, we will unpack the nature of the thematic ideas, how they are constructed melodically and rhythmically, and we will explore how the thematic ideas are developed as each movement unfolds. We will take a detailed look at Bach's use of keys, modulations, chord choices, and harmonic progressions. We will also consider his varied use of homophonic and polyphonic textures and discover what the player needs to draw out in performance.
Getting inside the mind of Bach is a fascinating endeavour that will inspire you as a performer or as a composer. It will deepen your grasp of his style and of Baroque music in general.
This course will equip you to analyse other Preludes and Fugues and will empower composers to write Fugues.
I look forward to you joining me as we enter the mind of Bach and embark on a fascinating analysis of this stunning Prelude and Fugue.
— Gareth Green, Music Matters