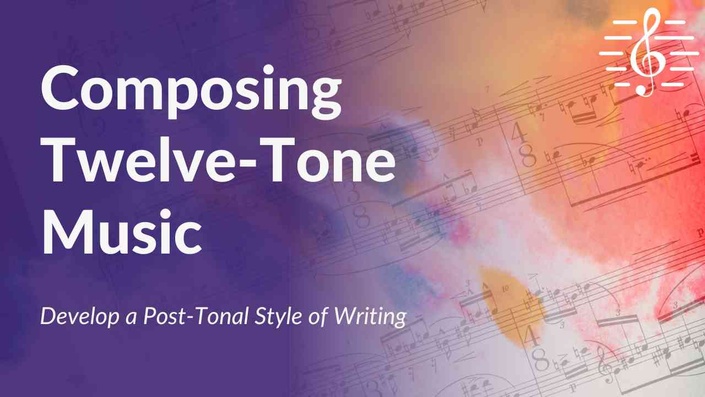 Composing Twelve-Tone Music
A practical composition course in twelve-tone serialism.
Enroll in Course

What You Will Learn
---
Develop a post-tonal style of writing with the Composing Twelve-Tone Music course.
Following the breakdown of tonality, composers during the earliest years of the 20th century sought new ways in which to write in a post-tonal world. Serialism is one of the most prominent innovations resulting from this. This unique course explains step by step how to write Serial music and provides an extensive outline of twelve-tone compositional techniques, with numerous musical examples and exercises. During the Composing Twelve-Tone Music course we'll cover...
Note Rows - How do you compose an effective Row? How do you work in inversion, retrograde and retrograde Inversion? What about possible transpositions?
Melody and Harmony - What is meant by consonance and dissonance in the context of Serialism? How would you use Serialism with or without tonal, modal or whole-tone implications? What about other musical contexts?
Row Design - What effects can be achieved through permutations of the Row, symmetrical Rows, all interval Rows? What about Rows containing a greater or fewer number of notes than 12? How should you go about dealing with enharmonics and octave transposition?
Tension and Relaxation - How do you approach melodic and harmonic design? What about the use of tone and texture? How can you achieve this through the injection of rhythm, tempo, dynamics and articulation?
Stylistic Choices - How do you write serial music in a contrapuntal way? How do you write in two, three, four or more parts? What do you need to consider when writing chords and harmony in twelve-tone music?
Thank you thank you! Such an easy and clear explanation of dodecaphonic music writing! Very creative method to use for nowadays music!
- Nodira

Who Is This Course For?
---
Thoughtful composers wanting to write in the Serial style.
Most music composition techniques taught are still based mainly on traditional 18th century thinking. This course considers possible alternatives available to the thoughtful composer through the serial style, with ways explored that may open horizons or new levels of freedom in musical language. The composing twelve-tone music course is designed to stimulate composition students, teachers and professional composers and inspire you with a new way of writing.
Do any of these sound familiar?
"Serial music baffles me, I have no idea where to begin..." "I get the general principles of Serialism but I'm not sure how I would go about composing a piece of Serial music..." "I don't really know what are the issues that need to be thought about when constructing a Row…" "I'd like to know how to take a Row and turn it into a piece of music with meaningful melody and harmony..." "I'm not sure how composers might mix Serialism with non Serial elements…"
↓
Thank you so much for these videos! I watched them last week and now I am starting to compose my own 12-tone composition! I really love listening to atonal music and I really wanted to write one.
- Mico

By the end of the Composing Twelve-Tone Music course you'll be able to…
---

Compose a note row, along with its Retrograde, Inversion and Retrograde Inversion formats in all transpositions

Understand the melodic and harmonic implications of intervals within the Row that create stronger or weaker dissonance, exploring many possible designs of a Row

Construct a note Row understanding the implications for dissonant and consonant tension and relaxation, for tonality, atonality, modality and for other characteristics such as building a Row around whole-tone scales

Deal with octave dislocation, enharmonics, rhythmic structures and harmonic implications

Employ homophonic and contrapuntal techniques in the Serial context to write in two parts, three parts, four parts and more parts

Create a complete and polished Serial composition
You are a very good teacher. For my exam I have to study an article about Schönberg's twelve-tone system, on which I have no idea whatsoever because it is one lesson which is not related to my major, but I have to take it and your explanations saved me. Thank you.
- Aytakin

Course Information
---
What's Included with the Composing Twelve-Tone Music Course?
Professional Teaching
You'll receive expert teaching on every essential angle of writing in the Serial style, gradually building your technique through exploring each aspect in turn and in depth.
Practical Exercises
Practical lessons demonstrate how to compose effectively in the Serial style with exercises designed to enable you to put into practise what has been covered.
Ask Questions
At any point during the course you are able to post comments and ask questions below each video should you have any in regards to the topics covered.
Easy to Follow Structure
The course is divided into multiple stages, breaking down each part separately before putting in all together.
Complete at Your Own Pace
You can easily fit the course around your regular commitments, completing it at your own pace and in your own time.
Anywhere Access
Your course never expires. Learn when and where you choose! Computer or mobile. Just get comfortable and dive in!
↓
Your Instructor
Hi, I'm Gareth and I'm passionate about developing 'the all round musician'.

Nearly 35 years of music examining with ABRSM, work with the BBC on Radio and TV, experience on the international concert platform, as a published composer and arranger, have brought rich resources to the 40 years of teaching in which I've engaged.
Scholarships at The Royal College of Music, Oxford University and St. Paul's Cathedral gave me fantastic opportunities to learn from the best musicians, scholars and teachers. Working as Director of Music at Queen Elizabeth Grammar School then provided a wonderful opportunity to develop my teaching skills.
Teaching individuals and groups of all ages, and at all stages of development have refined a teaching approach that I hope is fun and engaging, and focused on explaining things clearly and logically. And that is what these courses are all about - understanding the basic principles with clarity, then going deeper, applying them to your musical life and liberating yourself as a musician.
It's a rich and amazing journey, and I can't wait for you to join me today!
Frequently Asked Questions
When does the course start and finish?
It is a completely self-paced online course! Watch and replay lessons as you wish - you decide when you start and when you finish.
How long do I have access to the course?
How does lifetime access sound? After enrolling, you have unlimited access to this course for as long as you like - across any and all of the devices you own.
What if I am unhappy with the course?
We stand behind the academic quality of our online courses and are committed to ensuring that you completely satisfied; that's why we offer a 14 days money back guarantee. Simply send us an email explaining what you didn't like about the course and why it wasn't suitable for you and we'll give you a full refund.
What payment methods do you accept?
Both PayPal and credit/debit card payments are accepted.
I need help! Who can help me?
A Letter from Gareth Green
MA (Oxon), MA (Leeds), FRCO(CHM), FLCM, ARCM
Why might you want to learn how to compose Serial music? Many composers are happy writing in a conventional style but want to branch out and to find a new voice. Whether or not you ultimately want to be a Serialist this course will help you achieve a fresh approach by teaching you new techniques and a new approach.
There's also an historical aspect to my opening question. Towards the end of the nineteenth century, composers were becoming increasingly adventurous with their use of chromatic harmony, ultimately to the extent that it wasn't always clear in which key they were writing. By the early twentieth century we were experiencing a crisis of tonality, to which composers responded in a number of different ways. The Post-Romantics, such as Elgar and Sibelius, were happy to carry on writing in a tonal style. The Neoclassical composers, led by Stravinsky, looked back to Baroque and Classical styles in an attempt to reuse earlier techniques in a more dissonant context. The Impressionists, such as Debussy, decided to use harmony in a non-functional way and to explore the influence of the East as well as using alternatives to major and minor tonality such as the whole-tone scale. Alongside all of this was The Second Viennese School, led by Schoenberg and his disciples, Berg and Webern.
The Second Viennese School composers formulated the Serial style. Regarded by some as the most radical of the early twentieth century innovators, in many regards they strike me as taking the most logical steps following the breakdown of tonality. Music had become so chromatic that Schoenberg formalised a means of employing all 12 chromatic notes of the scale equally, eliminating any sense of gravitation towards any particular note.
For composers who are wanting to develop a post-tonal style, there is therefore a great deal of logic in learning Serial techniques.
Ultimately you might want to be a Serial composer. Alternatively, you might be searching for a means of liberating yourself from the restraints of conventional tonality, or you might be interested in using Serialism alongside other techniques, or you might be interested in exploring aspects of Serialism in your writing, without having to sign up as a Serialist.
Besides the 12 tone approach, there is much to learn from Serialism about writing counterpoint in a more modern context, and there is much to grasp about how to shift the balance and design of dissonance and consonance. Serialism will also help you to think much more specifically about how to write effective textures and how to apply dynamics, articulation and tone colour to paint the points of tension and relaxation in your composition. Many composers who have decided not to adopt Serialism have nevertheless assimilated a great deal from the Serial approach into their compositional style.
Besides all of the above, there will be those who wish to learn how to understand and to analyse music written in a Serial style. This course will also answer those needs.
This is a very practical course, packed with exercises for you to try after each stage of the learning.
So I invite you to join me on a special journey that promises to develop your skills as a composer and as an analyst. Unlock the secrets of the post-tonal world and prepare to be led in exciting new directions.
— Gareth Green, Music Matters