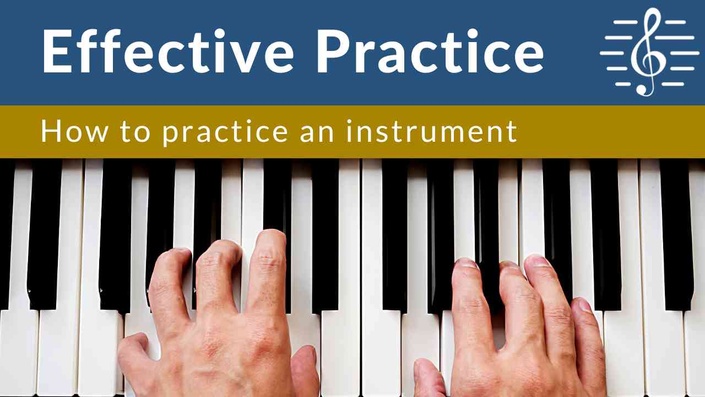 Effective Practice
A guide for parents and for adult learners on how to practice an instrument effectively.
Enroll in Course

What You Will Learn
---
Make your practice time more efficient and your progress faster with the Effective Practice course.
If you're learning an instrument then you'll already know just how much work it takes, but how do you make sure you're using your practice time most effectively? If you're a parent whose child is learning to play an instrument then you want to tool up and work out how best to assist your child in their learning. Adult learners who are wanting to learn a bit more independently need to know how to go about practice and improve what you're doing. This course will show you how best to go about practice and exactly what you should be doing. During the Effective Practice course we'll cover...
Practice Time - How long should you spend practising? How often should you practice? How should you break up your practice time?
Effective Practice - What should you be practising? How can you make your practice time super efficient? What is the most effective practice method?
Making Music - How do you make a beautiful sound? Do you understand phrasing, tempo, dynamics? How do you read pitch, rhythm and deal with pulse?
Working with a Score - What are the potential difficulties to spot within a piece? How would you give an effective performance of a piece? Can you analyse and understand what's going on with the music?
Areas of Focus - Why do you need to learn music theory? How do you develop your aural skills? What technical exercises should you be practising?
Thanks a ton! This is really very helpful. I love the way you explain with several examples!
- Mala

Who Is This Course For?
---
Parents and adult learners.
Lots of people out there have got children who are learning to play an instrument or who are learning to sing. They would love to help by supervising the practice, giving their child encouragement, but are not sure how best to do that. If you're an adult learner and you're just a little bit worried about what to do and what not to do with practice then this is going assist you in more independent learning. The effective practice course is designed for both these reasons. Learning how to practice effectively is an absolute must for those who want to make the fastest progress.
Do any of these sound familiar?
"I don't know what to practice..." "I don't know how best to practice this..." "I'm a parent, I wish I could help my kids to practise more effectively…" "I'm an adult learner, I can play the notes but I'm not sure what do I need to do next..." "I struggle to look at a piece and learn it on my own…"
↓
At last!!! You are the best teacher I have experienced. I had a great deal of difficulties, understanding, but your way of teaching is like guiding me to walk step by step without stumbling on my face. Your way showed me that I can and am able to understand music, in spite of my fear. Thank you very much for your attribution, to those frightened students. Bless you.
- Neomi

By the end of the Effective Practice course you'll be able to…
---

Learn pieces quicker and more accurately

Practice more efficiently and effectively

Provide helpful guidance and support to your child learning music

Understand the elements of music on a score with clarity

Learn new pieces more independently

Play more confidently knowing what you are doing is right
I'm so pleased to find these videos - thank you so much. I've played the piano for 25 years and never took lessons. I was always aware that there was a huge hole in my knowledge which was preventing me from taking steps into other pieces, and this course was a literal revelation to me. Thank you, deeply.
- Max

Course Information
---
What's Included with the Effective Practice Course?
Professional Teaching
You'll receive expert guidance on what you need to pay attention to within a piece in order to make practice work best.
Practical Exercises
Each video teaches you the method for effective practice and then follows it by relating it to an example piece.
Ask Questions
Below each video you are able to post comments and ask questions should you have any in regards to the course topics covered.
Easy to Follow Structure
The course is divided into multiple stages, breaking down each part separately before putting in all together.
Complete at Your Own Pace
You can easily fit the course around your regular commitments, completing it at your own pace and in your own time.
Anywhere Access
Your course never expires. Learn when and where you choose! Computer or mobile. Just get comfortable and dive in!
↓
Your Instructor
Hi, I'm Gareth and I'm passionate about developing 'the all round musician'.

Nearly 35 years of music examining with ABRSM, work with the BBC on Radio and TV, experience on the international concert platform, as a published composer and arranger, have brought rich resources to the 40 years of teaching in which I've engaged.
Scholarships at The Royal College of Music, Oxford University and St. Paul's Cathedral gave me fantastic opportunities to learn from the best musicians, scholars and teachers. Working as Director of Music at Queen Elizabeth Grammar School then provided a wonderful opportunity to develop my teaching skills.
Teaching individuals and groups of all ages, and at all stages of development have refined a teaching approach that I hope is fun and engaging, and focused on explaining things clearly and logically. And that is what these courses are all about - understanding the basic principles with clarity, then going deeper, applying them to your musical life and liberating yourself as a musician.
It's a rich and amazing journey, and I can't wait for you to join me today!
Frequently Asked Questions
When does the course start and finish?
It is a completely self-paced online course! Watch and replay lessons as you wish - you decide when you start and when you finish.
How long do I have access to the course?
How does lifetime access sound? After enrolling, you have unlimited access to this course for as long as you like - across any and all of the devices you own.
What if I am unhappy with the course?
We stand behind the academic quality of our online courses and are committed to ensuring that you completely satisfied; that's why we offer a 14 days money back guarantee. Simply send us an email explaining what you didn't like about the course and why it wasn't suitable for you and we'll give you a full refund.
What payment methods do you accept?
Both credit and debit card payments are accepted. You can also pay with PayPal, Apple Pay, and Google Pay.
I need help! Who can help me?
A Letter from Gareth Green
MA (Oxon), MA (Leeds), FRCO(CHM), FLCM, ARCM
I've taught music for 40 years to students of all ages across a broad ability range. One of the many themes to come through that experience is regarding the topic of practice.
A large amount of parents who bring their children to me for lessons tell me they would love to have a clearer idea about how they should be working at home and how they could help them more. Similarly I teach a number of adult learners. They've found the enjoy lessons but are not always sure what they should prioritise when on their own.
Reflecting on this, we decided to put together a course that's rather different from the courses we normally produce. In fact, this course is unlike any other resource available in that it's designed specifically for parents and for adult learners.
Key features include:
No previous knowledge assumed

All the essential ground covered relating to effective practice

Designed to ensure that efficiency and progress of students between lessons will be maximised

Intended to generate more rewarding & enjoyable progress

Devised to make parents and adult learners feel much more confident
In short, it's a transformative course that will inform and make progress faster. Enjoy it and feel empowered by it.
— Gareth Green, Music Matters